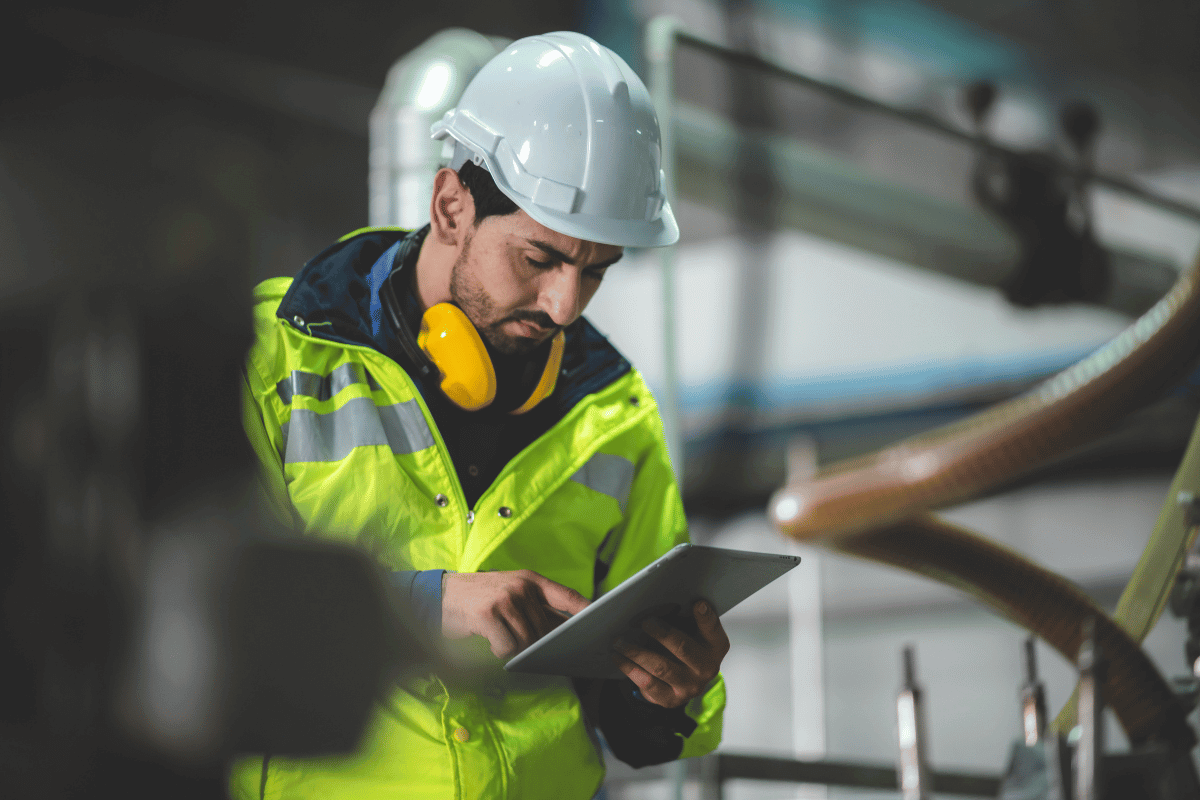 09 Feb

2022 Broke Records: Our HSE Job Market Analysis

2022 was a record-breaking year in the health and safety recruitment world! If you regularly follow us via LinkedIn, you'll know that we track and analyse the Australian health and safety job market on a monthly basis. As part of this process, we use data from Australia's most popular job boards—SEEK and LinkedIn—and then cross-check this data against reports released from the ABS, SEEK and other sources to understand "the why" behind the data.
What did the data reveal?
2022 was a candidate-led market, with more health and safety roles advertised than ever before. We referenced 8,520 health and safety roles advertised throughout 2022. 
And, the year started off with a bang! In January 2022, 895 health and safety roles were advertised—more than we've ever reported in one month! 
Not only was it a record-breaker for us, but according to the SEEK 2022 Employment Market Year in Review, the first five months of 2022 resulted in the most job ads EVER on SEEK in its 25-year history, culminating in May 2022 with over 265,000 job ads nationally. 
This record level of growth was facilitated by the end of the first Omicron wave in Australia, the last of Australia's COVID-related lockdowns, and declining unemployment rates. All States and Territories marked record-level job ads for the year.
As a result, the demand for workers was at a premium and supply was stretched thin, leading to applications per job ad reaching record lows. From mid-2022, job ad numbers eased off the peak slightly, declining incrementally month-on-month, allowing applications per job ad figures to rise. Looking at our data, the first six-month period for 2022 featured 4,561 health and safety jobs, compared to 3,959 for the year's second half.  
While the year broke records overall, there was a 13.2% drop in health and safety job roles from the first half of 2022 to the second.  
Australia's unemployment rate in 2022 was the lowest in over 48 years! The unemployment rate continued to fall over the course of 2022, starting out in January with a rate of 4.2% to end in December at 3.5%, reflecting an increasingly tight labour market, high job vacancies and ongoing labour shortages. 
2022 Health & Safety Job Trends
As already indicated, January 2022 broke records, with over 895 health and safety roles advertised during the month, with July at second place with 827 roles. 
Our analysis revealed that the months with the lowest number of roles all contained holidays or endings such as Christmas (December, 481), Easter (April, 704) and the end of the financial year (June, 651).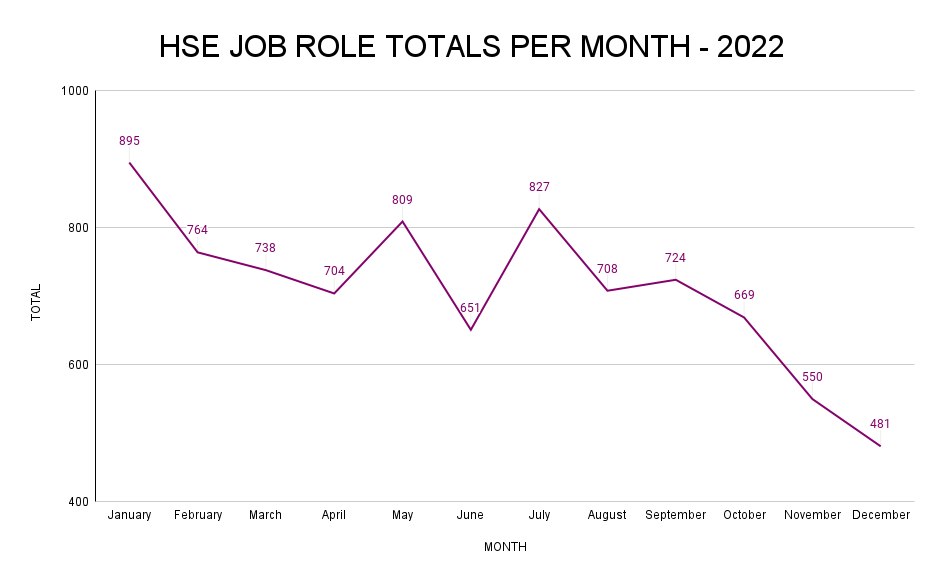 What States Were Hiring?
The majority of health and safety roles were available in NSW (29.6%) with QLD overtaking VIC for second place (23%) and VIC coming in at number three (22%).
Interestingly, overall job vacancies in Queensland doubled over a two-year period to 77,000: according to the ABS, this was attributed to Queensland's ability to remain open during COVID-19. 
Our experience with the Queensland market highlighted that this State is moving faster than other States with major projects (some contributing to the 2032 Olympics), thus requiring a greater number of health and safety professionals.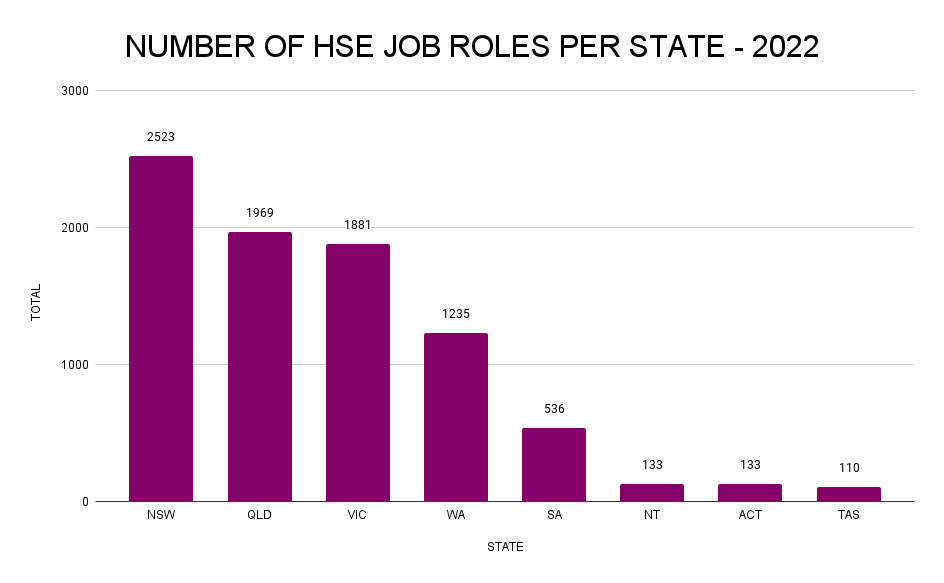 And at What Level?
The majority of roles were allocated to Advisor/Snr Advisor (51%), followed by Mid-Level Management roles (20.4%) and Entry Level roles (14.2%). 
Executive & Senior Management roles (1.7%) were the least advertised.
It is not unusual that there were more Advisor level positions advertised as these are the majority of health and safety roles available in typical workplace health and safety structures.  However, the unusually high demand was a result of many new roles being created and the domino effect of resignations.  Advertisements for Senior/Executive health and safety roles will always be fewer than other job families because there are fewer positions (and many of these vacancies won't be advertised).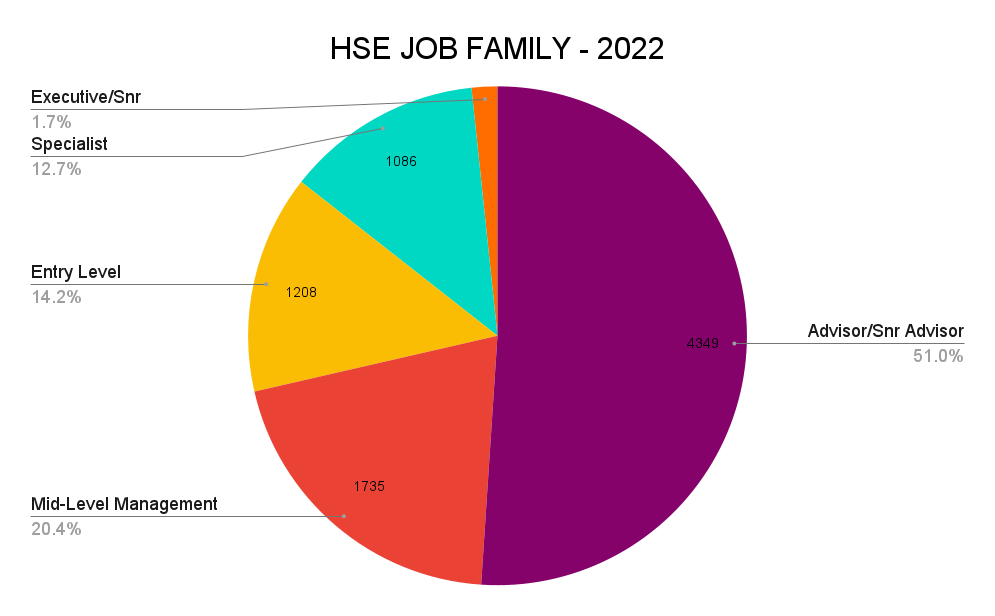 Construction Led the Way
The top Industries recruiting HSE professionals nationally were Construction (22%), Mining (14%), Professional Services (11%), Manufacturing (11%) and Government (10%). 
Construction led the number of available roles across all States, except WA where mining led.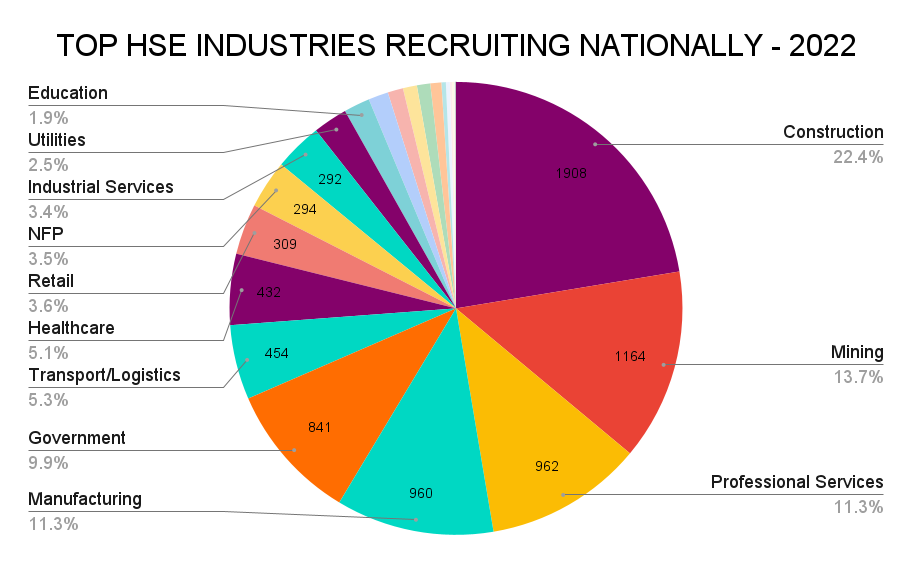 2022—Now, That's a Wrap!
The record-level job ads resulted in an extremely tight market for health and safety professionals. Candidates held more bargaining power than ever before. Employers turned to new incentives and added benefits to attract candidates. Sign-on bonuses became more commonly used (particularly in cases where a candidate was reluctant to join a new company because they'd lose their bonus payout). We also witnessed a marked increase in counter-offers.  Salaries were on the rise and many of our clients needed to re-jig budgets to afford the best talent.  
Another notable trend in "work perks" was the promotion of flexible work options. The number of roles that mentioned "Work From Home" within position descriptions increased (let's face it, COVID-19 changed the way we work for good!).  We were pleased to see the majority of our clients, even high-risk and healthcare, offering at least one day working from home to ensure they can compete for the best health and safety candidates available.
Whilst the vast majority of job candidates enhanced their personal brand during recruitment processes, disappointingly, we witnessed a number of candidates who didn't. There's nothing like a candidate-led market to boost candidate confidence. Some of our clients were impacted by candidates entering job processes half-heartedly, thinking nothing of withdrawing from interviews at the last minute or, in some cases, accepting roles and then not commencing (because a 'better offer' had come their way in their resignation period).
What Can We Expect in 2023?
As we commence 2023, the general job market in Australia continues to be strong for candidates, mainly driven by a skills shortage and low immigration. Health and safety jobs in January demonstrated a strong start to the year with 761 roles advertised—56% more than Dec 2022 but 15% less than January 2022.  
Although KPMG is predicting unemployment to reach 4.5% in 2024 and there's widespread media commentary about the impact of rising inflation, higher interest rates and wage growth stagnation potentially resulting in the loss of an estimated 150,000 jobs by the end of 2023, we aren't convinced this will have a huge impact on the health and safety market. Many industries employing larger safety teams are still set to experience high growth—particularly in construction, mining and professional services.  
So for now, we believe it's still a great time to be a candidate and a difficult time to be a hiring manager. We encourage our clients to keep recruitment processes moving quickly and to appreciate that 2023 could still be the year of 'shorter shortlists' (2-3 candidates not 5-6).
We'll continue to monitor the market and report back on our findings and trends throughout 2023!
Looking for your HSE unicorn or for your next role? Get in touch.
For more HSE recruitment tips:
Sources
SEEK 2022 Employment Market Year in Review
Staffing Shortages—The Guardian
Job vacancies in Queensland have doubled in two years
Australian unemployment rate plummeted to its lowest level of 3.4%
Australia's skills shortage will continue into 2023
Australian Government's Department of Jobs and Small Businesses Employment Outlook
KPMG predicts a rise in unemployment