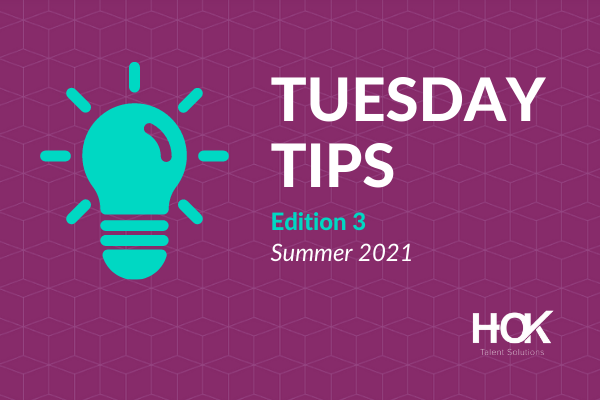 14 Dec

HOK Talent Solutions "Tuesday Tips" Edition 3 – Summer 2021

Every Tuesday on our HOK Talent Solutions LinkedIn page we post a 'Tuesday Tip' – here are our most popular tips through the last quarter of 2021. Make sure you follow us on LinkedIn!
OUR TOP 3 TUESDAY TIPS FOR CANDIDATES
1 HOW DO YOU KNOW IF IT IS TIME TO LOOK FOR A NEW ROLE?
We suggest giving yourself a career check-up.
Ask yourself these 5 questions;
Am I enjoying my work?
Is the job providing me with enough challenge?
Am I putting all my strengths to work – and some more?
Am I learning new skills – and accomplishing new things?
Do I still fit into the organisation – the size, the profile, the people?
If you answer 'no' to most, then it's probably time to define what the next role needs to look like.
2. RECRUITERS ALWAYS CROSS CHECK
The most natural inclination a recruiter has is to cross check a CV against LinkedIn. If dates of roles or qualifications don't align, it can raise a question mark.
If you're developing or perhaps updating your CV or your LinkedIn profile, remember that dates, companies and qualifications must match.
Some slack will be provided if the job title varies (within reason). For example, if your actual job title is 'Tribal Leader of Keeping People Safe' and you think that 'Safety & Wellbeing Manager' resonates more on your LinkedIn profile (let's face it, you'll come up in more searches), then that's okay. But, keep your actual title on your CV as a good CV will have a description of your role.
3. TURN YOUR CAMERA ON
We were interviewing for a HSE opportunity and because of the Melbourne lockdown, it was via video.
Our candidate, who we'd not met previously, entered the interview and their camera was switched off. When we told them, they said it was deliberate as they'd not had an opportunity to make themselves presentable.
It was awkward. They could see us, but we couldn't see them. Right away, we were questioning their organisation skills and commitment to the recruitment process.
With video interviews tipped to stay, our best advice is to apply the same top 3 principles as you would an in-person interview.
Reschedule if feeling unwell / not on 'your game'
Dress appropriately
Prepare your examples
For further tips watch our video on how to prepare for a video job interview.
OUR TOP 3 TUESDAY TIPS FOR HIRING MANAGERS
1 IT'S ABOUT THE PROCESS
It's hard (really hard) attracting HSE people to change jobs!
Hiring Managers remember:
Traditional shortlists of 5 candidates for a perm role is old school
Shortlisted candidates are, most likely, looking at other roles
Lengthy recruitment processes will mean the other company wins
Contractors will guide you around their hourly rate, not the other way around (and, if you have one good contractor presented, take them, don't wait for a comparison)
Money does talk in this market, but so does flexibility
2. IT'S ABOUT THE OFFER
Engagement during a hiring process remains key and some organisations do it really well.
For example, one of our recent candidates was at the offer stage.
The Hiring Manager personally rang the candidate to offer them the role, wasting no time in telling them how enthusiastic they were about them joining and reiterating the benefits of joining XYZ company. It spoke volumes. In other processes, the candidate was dealing with HR or a recruiter and the communication with the hiring manager was lost.
They joined XYZ company, even though it wasn't the highest paying role offered to them. They felt connected to their new boss and the company all the way through.
3. YOU'VE GOT THEM, NOW KEEP THEM
2021 has been the year of people joining companies and then leaving them quickly if they feel their expectations are just not being met. Starting roles in lockdown and/or not meeting their manager and wider teams in person has had impacts.
Wrap your arms around your new hires. Give them all the support they need to ensure that this doesn't happen to you.
We have loads of podcasts and blogs to support candidates and hiring managers through the recruitment process – you can find them all here
And of course, contact us if we can help you with your job search or to recruit your safety team!