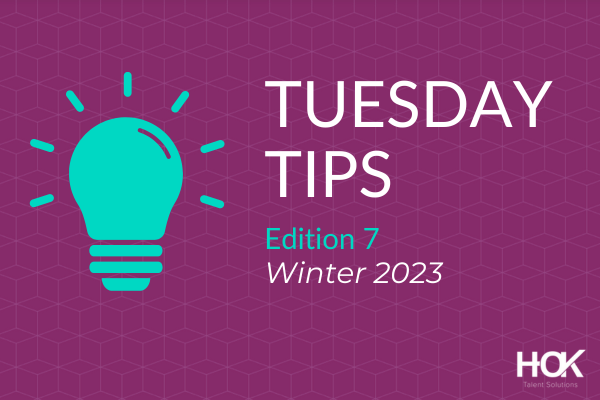 26 Jul

HOK Talent Solutions "Tuesday Tips" Edition 7 – Winter 2023

Most Tuesdays on our HOK Talent Solutions LinkedIn page we post a 'Tuesday Tip' – here are our most popular tips from the first half of 2023. Make sure you follow us on LinkedIn!
OUR TOP 3 TUESDAY TIPS FOR CANDIDATES
1. It's Okay to Share a Failure
Executive candidates we presented on a recent shortlist were asked by a CEO to talk about a failure – and the lessons learned. Some were unable to think of an example. If you were asked that question, what would you say?
2. Examples Speak Volumes
If you're being interviewed and it's conversational in style (e.g. "Our premium has increased – what should we be doing more of?"), providing an example of what you have done to successfully address the same issue in a workplace will put you ahead of the candidate who only answers hypothetically (e.g.'this is what I would do').
3.  Never Say You Applied Because You Were 'Approached'
One of the most important questions in an interview scenario is "What motivated you to apply / why do you want to join us?". This question offers the opportunity to align your values to their values, to highlight the opportunities you can see, the fit for your career and to reference any research (as part of your prep) that resonated with you. It's often the final chance to sell yourself. Do yourself proud!!
OUR TOP 3 TUESDAY TIPS FOR HIRING MANAGERS
1. Change—It's Been Brewing
There's been a subtle change – but it's been brewing for a while. We're seeing ambitious and high-calibre candidates turn their back on awesome, career-defining, high-paying opportunities because their life outside of work will be compromised. It's really a thing!
2. Treat Hiring Like a Sprint
Celebrating this good hiring manager!! Our candidate was offered the role three hours after their second interview and within 48 hours of role acceptance, the hiring manager was meeting their new employee for lunch.
3. Don't Risk a Counter Offer
Some companies request us to reference check a candidate with their current manager. We always respectively challenge this. Not only can it make the candidate feel stressed if they don't have a guaranteed offer in their hand, BUT it also provides the existing manager with a chance to counteroffer. Is it worth that risk?
These tips are just the tip of the iceberg! We have lots of podcasts and blogs to support candidates and hiring managers through the recruitment process—you can find them all here.
And of course, contact us if we can help you with your job search or recruit your safety team!