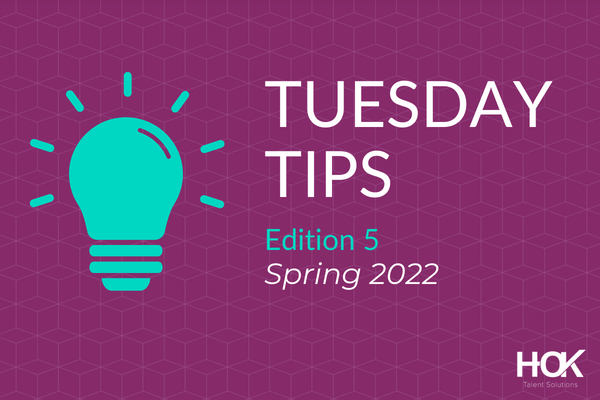 29 Aug

HOK Talent Solutions "Tuesday Tips" Edition 5 – Spring 2022

Every Tuesday on our HOK Talent Solutions LinkedIn page we post a 'Tuesday Tip' – here are our most popular tips from Autumn to Spring of 2022. Make sure you follow us on LinkedIn!
OUR TOP 2 TUESDAY TIPS FOR CANDIDATES
1. Never fudge
We are all vulnerable to making poor career choices. If this happened, then own the decision and don't remove it from your resume or fudge dates because you weren't there for very long. Honesty is the best policy (and you won't have anything to worry about if the company you are interviewing with runs an employment history check).
2. Money isn't everything
Counter-offers are back with a vengeance. Remember the reason why you wanted to leave. Will more money really make a difference? Read our article here.
OUR TOP 3 TUESDAY TIPS FOR HIRING MANAGERS
1. You have one opportunity
When you are next recruiting HSE talent into your team, be mindful that in this crowded jobs market, the talent you want may not fit into your pre-determined salary range. Companies successfully hiring are those that put their best offer on the table—and many times this is based on the person, not the original job evaluation.
2. Keep the recruiters at bay
If you are not appreciating your team or having regular check-ins and performance discussions with them, it's likely they may be tempted next time a recruiter calls or a job advert hits their LinkedIn feed. Trust us, replacing them won't be easy.
3. Sharing is caring
Have you ever thought about sharing interview questions with candidates 15 minutes prior to their interview? One of our clients does this because they appreciate that not everyone performs at their best if they are put 'on the spot'. Feedback from candidates interviewing has been positive—'it's refreshing' and 'it enabled me to be more focussed and relaxed'.
These tips are just the tip of the iceberg! We have lots of podcasts and blogs to support candidates and hiring managers through the recruitment process—you can find them all here.
And of course, contact us if we can help you with your job search or recruit your safety team!