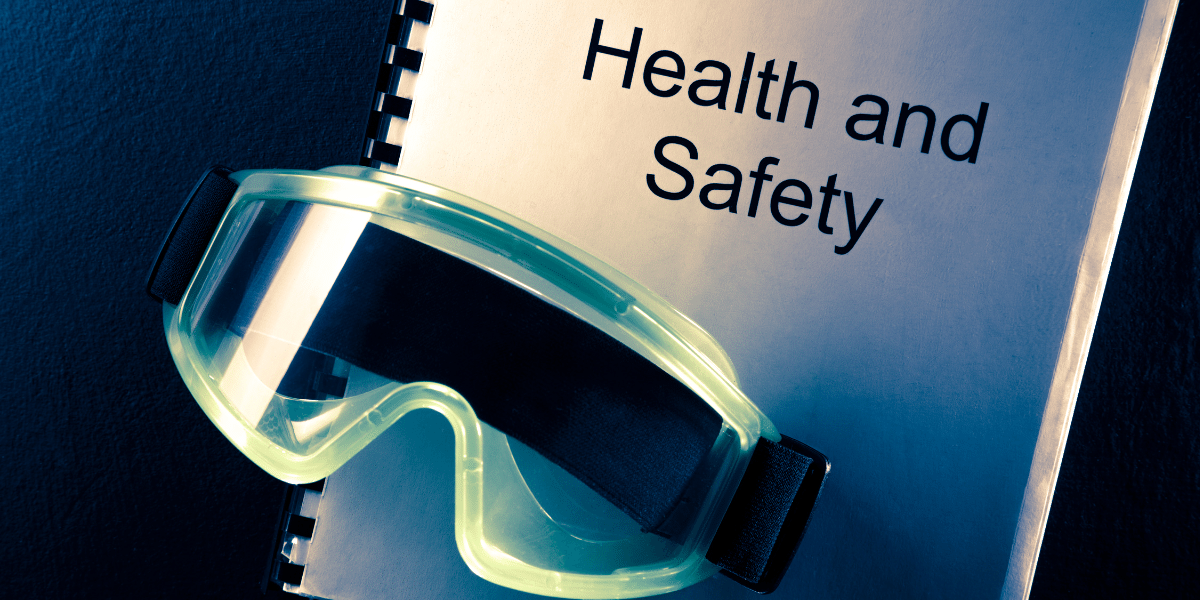 29 Aug

HSE Roles in Abundance: A Six-Month Analysis Jan – June 2022

It's been a hugely busy year in the world of health and safety recruitment and if you regularly follow us via our LinkedIn, you'll know that we track and analyse the health and safety job market on a monthly basis. As part of this process, we use data from Australia's most popular job boards, SEEK and LinkedIn. We then cross-check this data against reports released from the ABS, SEEK and ANZ JobAds.

You can listen and watch how we track the data via our video here.
Let's get into it!
The review we're about to share is based on the six months from January 1st 2022 – June 30 2022. And, for the purpose of this analysis, we used data from more than 4,500 health and safety roles advertised nationally.
Apart from it being a healthy half-year for job-seekers, a difficult half-year for hiring managers (and a 'turn your hair grey' half-year for health and safety recruiters), there were other facts to share:
It was wildly fluctuating
January saw the highest number of roles advertised with 895, followed by May with 809. June reported the lowest number of roles with 651. Overall, the number of roles advertised for health and safety fluctuated wildly over the course of the six-month period (potentially the slow downs were school holidays – like, everyone fled to Bali, Fiji or Qld right? and end financial year).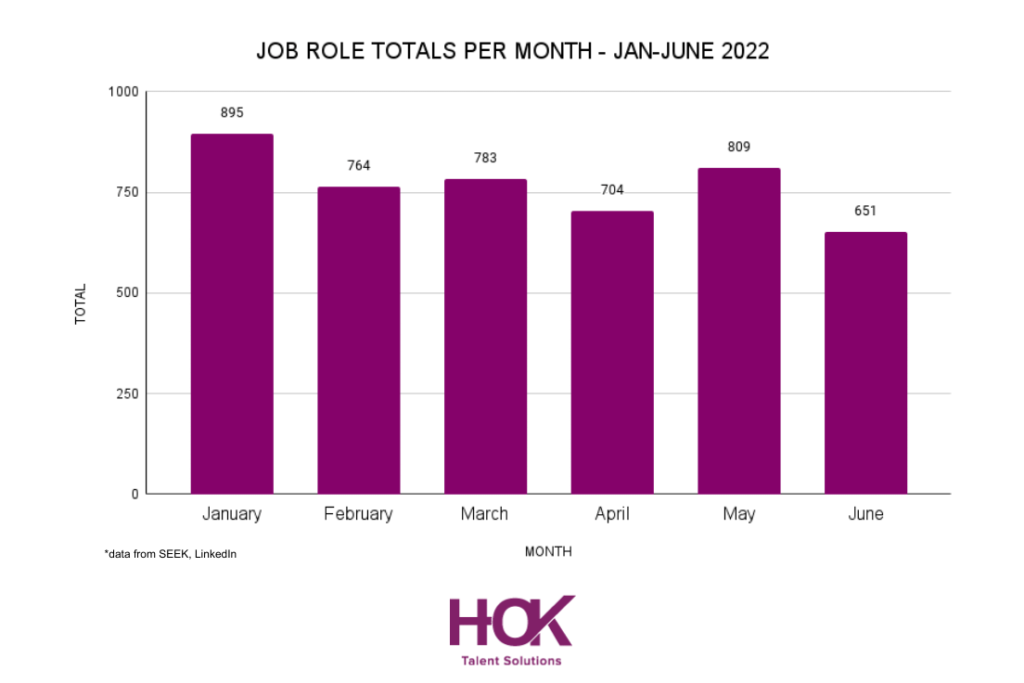 Queensland soared ahead during May and June
Looking at the state-by-state breakdown, NSW had the largest number of roles advertised (1407) followed by Victoria (1010) and Queensland (960). But during the months of May and June, Queensland bucked the usual trend and overtook Victoria with more roles advertised.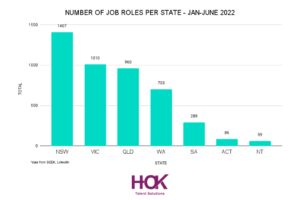 The usual suspects
There was nothing particularly unusual about how roles were allocated, but the one area we noticed on the climb was HSE Manager level.
HSE Advisor / Senior HSE Advisor / HSE Business Partner – 50% (these will always make up the largest part of the market)
HSE Manager / National HSE Manager – 20%
Specialist roles (e.g. IM/RTW/Systems/Occ Hygiene) – 14%
Entry Level roles at 13%
Executive Management roles made up 1% (but we know most roles at this level don't get advertised).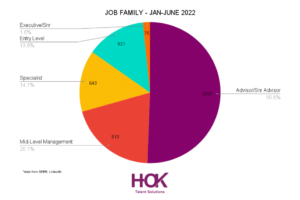 High risk dominated
The top three industries recruiting nationally were Construction (948), Mining (576) and Manufacturing (561). Following in fourth and fifth place were Professional Services (526) and Government (432).  In fact, most months, this was consistent, apart from healthcare pushing through in the earlier part of the year.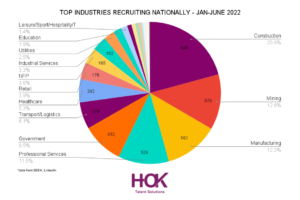 Continued demand for Injury Managers
The demand continued for injury management and return to work professionals, followed by HSE systems specific roles.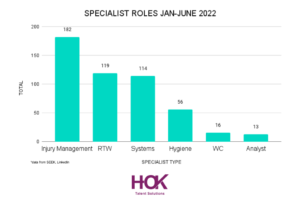 In closing
Fresh analysis is depicting that the Australian HSE market experienced another busy recruiting month in July, but took a slight dip in August, however there are still plenty of opportunities available.  Recruiting in a market where unemployment is at the lowest level in almost 50 years and population growth is at the lowest level in 100 years, creates the perfect storm.
As we see it, even with the best of intentions, many companies are missing out on attracting the best candidates because they are too slow to move through interviews, too slow in issuing offer documentation or unable to compete on salary.
The first two points are easier to rectify than salary, particularly if you are bound by budgets and parity, but our best advice is to put your best offer on the table first-time. You only have one chance and there's no time to waste in this market to negotiate.
Looking for your HSE unicorn or your next role? Get in touch.
For more HSE recruitment tips: