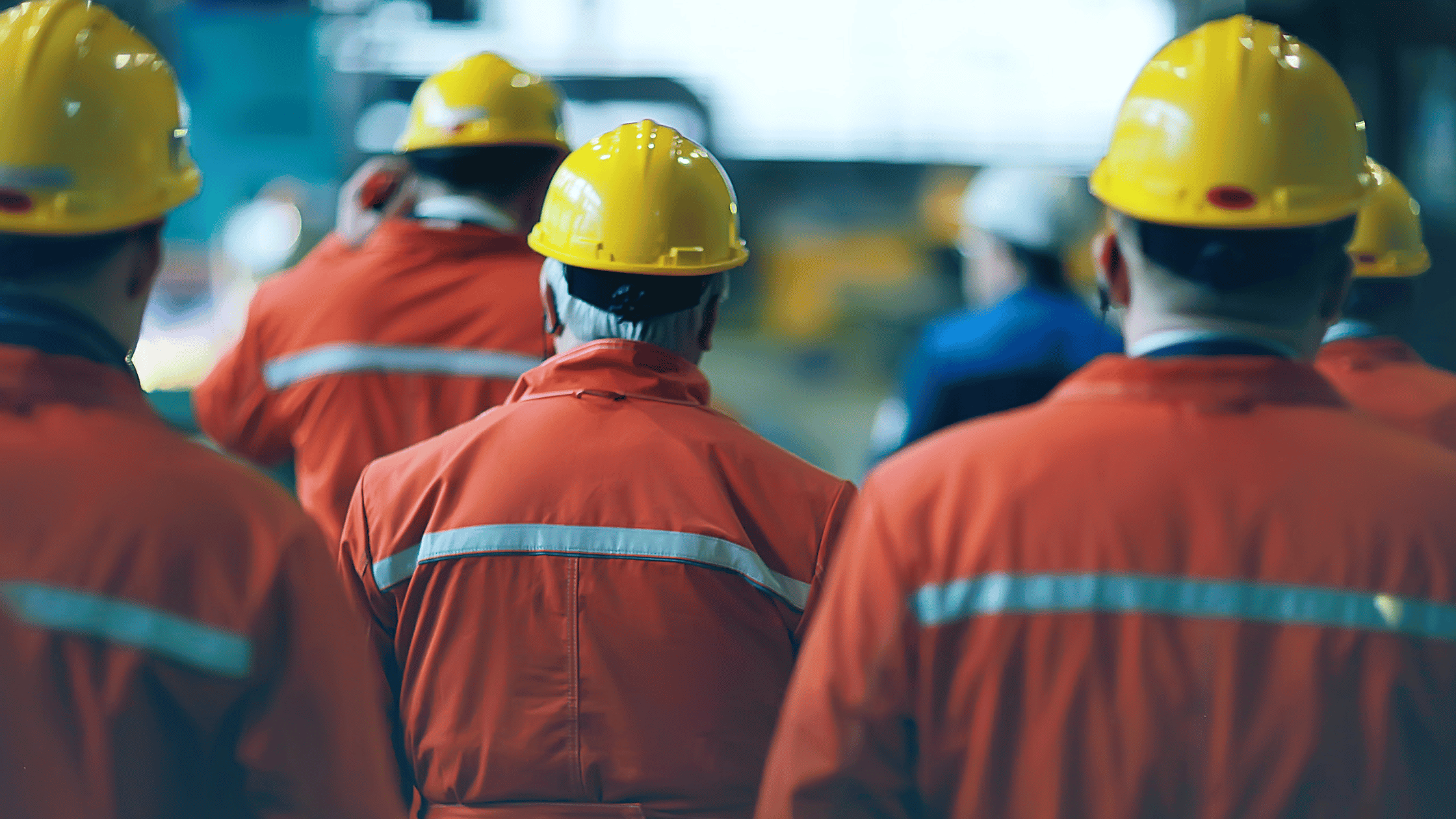 26 Jul

HSE Jobs – So Far 2023 Defies Predictions

Despite the warnings last year about the state of the economy, inflation and employment, HSE job vacancies continue to outperform other industries nationally. In fact, there's been no better time to be in the profession!

If you follow us via our LinkedIn, you'll know that we track and analyse the health and safety job market on a monthly basis. As part of this process, we use data from Australia's most popular job boards, SEEK and LinkedIn. We then cross-check this data against reports released from the ABS, SEEK and other industry specialists. And, we triple cleanse the data – our data is accurate as we only track jobs that belong in the health and safety job family.
2023 Defies Predictions
Over the past six months (1 January 2023-30 June 2023), we referenced data from in excess of 4,399 health and safety roles advertised nationally. And – 2023 continues to be a beneficial half-year for job-seekers, and a challenging half-year for hiring managers and recruiters but –
It Flipped and it Flopped! 
For this six-month period, there was:
an 11% increase in health and safety job roles from the second half of 2022
a 4% decrease in roles compared to the same six-month period last year
This indicates that, despite the higher cost of living and the slowdown expected in the post-COVID economy, health and safety roles were largely unaffected.
And, it continues to be a candidate-led market. We put this down to many health and safety professionals moving jobs in the past 24 months, therefore they aren't ready for their next move or due to the economic volatility – many are preferring to stay with their current company rather than risk taking on a new position.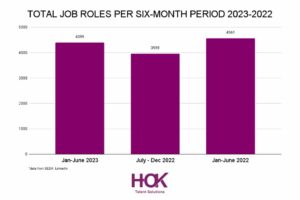 Lower, Higher, Higher then Lower
Each month was a surprising one with little consistency.
May was the biggest month with 865 health and safety roles advertised (we'd not seen these numbers since January 2022)
March was in second place with 802 roles
February and June had the lowest number of roles advertised with 612 and 650 respectively
Overall compared to the same period in 2022, in 2023
Jobs fell 17% in January;
Fell 25% in February;
Rose 5% in March;
Dropped 5% in April;
Rose 23% in May; and
June remained the same for both periods.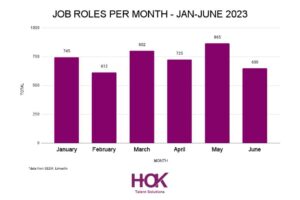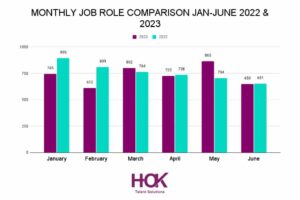 Queensland – A Force to be Reckoned With
Naturally, our largest three States led the way;
NSW (advertising 28% of all roles)
QLD (advertising 27% of all roles)
VIC (advertising 20% of all roles)
But QLD pushed its way into the number two position, out-performing VIC, who usually stands neck and neck with NSW.
In fact, QLD was so strong in May and June that it overtook NSW and became the number one hiring state. Comparing our data to the same period last year, QLD's jobs grew by 20% and QLD continues to exhibit a strong position with their economy recovering quicker than the nation as-a-whole from the pandemic.
In fact, QLD's labour market has not been this healthy in a decade. According to Construction Skills Queensland, employers responded to record demand for building services with a mammoth recruitment drive—which explains why there were so many newly created health and safety roles.
Let's Not Forget the Smaller States & Territories
The biggest gains in roles advertised outside of the top three States were  TAS 40% and NT 15%.
Reviewing the Apple Isle's 40% growth, industries that were hiring the majority of health and safety professionals were Construction (25%), Mining (17%), Manufacturing (12%) and Government (10%).
Interestingly, the latest Labour Force data shows that more Tasmanians are employed than ever before, with 291,200 Tasmanians in jobs.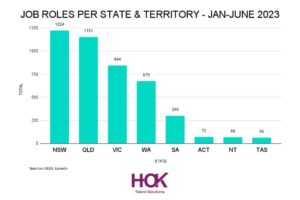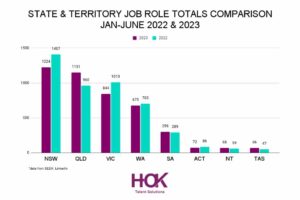 Construction is King – Except in WA
The top 5 industries recruiting nationally over the six-month period were
Construction (25%)
Mining (17%)
Manufacturing (12%)
Government (10%) and
Professional Services (8%).
Construction led the number of available roles per industry across all States except WA. In WA, mining was king!
The first half of 2023 saw a double-digit drop across:
Defence (-39%);
Transport/Logistics (-34%);
Professional Services -(32%);
Leisure/Sport/Hospitality (-30%);
Not-for-profit (-25%) and
Healthcare (-23%).
And a double-digit rise across:
Education (40%);
Mining (27%);
Agriculture (23%) and
Construction (15%).
Education has experienced great growth. The flurry of health and safety roles in this sector could relate to the increasing awareness of risk and the emphasis that many schools and tertiary institutions are placing on managing psychosocial hazards.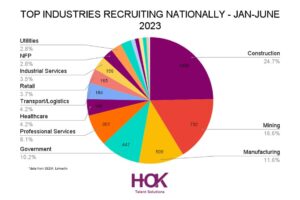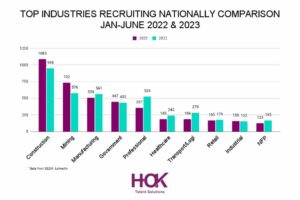 The Level of Roles Advertised
Our data demonstrates a healthy rise in entry-level positions. This is great news for candidates who are fresh graduates of the profession and something that we applaud.  Conversely, we are seeing more and more organisations at last 'growing their own'.
The executive market has been slow to move. Our take on this is that generally, these roles are not newly created and with people reluctant to leave roles in an uncertain economy or waiting for their Q4 bonus payments, the musical chairs or domino effect is yet to realise.
Unsurprisingly, Advisor/Senior Advisor/Business Partner positions have been the flavour. These are the majority of roles available on an HSE organisation chart and are usually the most operational/hands-on.
For specialist roles, there was a -34% drop in roles advertised from 2023 compared to the same period in 2022. The most in-demand speciality roles were Injury Management and Systems positions, but there were fewer positions overall than in 2022.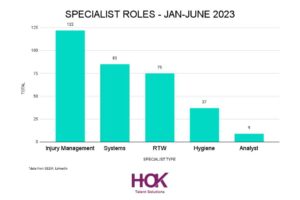 The Wrap-Up
Common sense would tell us that the rising cost of inflation and slow-down of the economy could see a potential fall in employment over the next six months and this could naturally expedite a stabilisation of the HSE job market.  However, as we write this in mid July, the unemployment rate in Australia remains at 3.5% which is still a record low and HSE jobs in July have remained steady.
With a shortage of available health and safety talent for reasons already identified, organisations are competing for the same talent, and we have continued to witness some organisations missing out on securing the best talent available because;
The recruitment process is lengthy 
To compete for the best, you need to move quickly. Candidates won't wait if they have another offer on the table because you can't get time in your 'one-up manager's diary for the second interview. Our best advice is to have the first and second interviews within 3-5 days of each other and an offer extended within 24 hours post the final interview. Don't delay making an offer because a Police Check is not back, make the contract 'subject to'. And, finally, C O N N E C T with your candidate once they accept the offer, don't wait for them to start. This is such a high-risk period and that feeling of connection is truly important to new members of your team.
The role offers little flexibility 
News Flash   candidates are now being offered and expect unprecedented levels of flexibility by employers when considering new opportunities. Generally, if a candidate is comparing your role which is five days per week at site versus another role with at least one day working-from-home option—WFH will win hands-down. (and, roles that are 5 days at site are taking months to recruit)
The salary is not market competitive
Fact…It's a candidate-led market and employers are willing to compete in terms of both flexibility and remuneration. Money does talk and if a candidate is weighing up offers or seeking a new role, they will generally not take a pay cut, particularly in a market where interest rates are rising. Always put your best offer on the table OR before you meet a candidate, understand what they are seeking so you know if you are in the market or not.
If you can work through these criteria, you will be ahead of the game.
Looking for your HSE unicorn or your next role? Get in touch.
For more HSE recruitment tips: