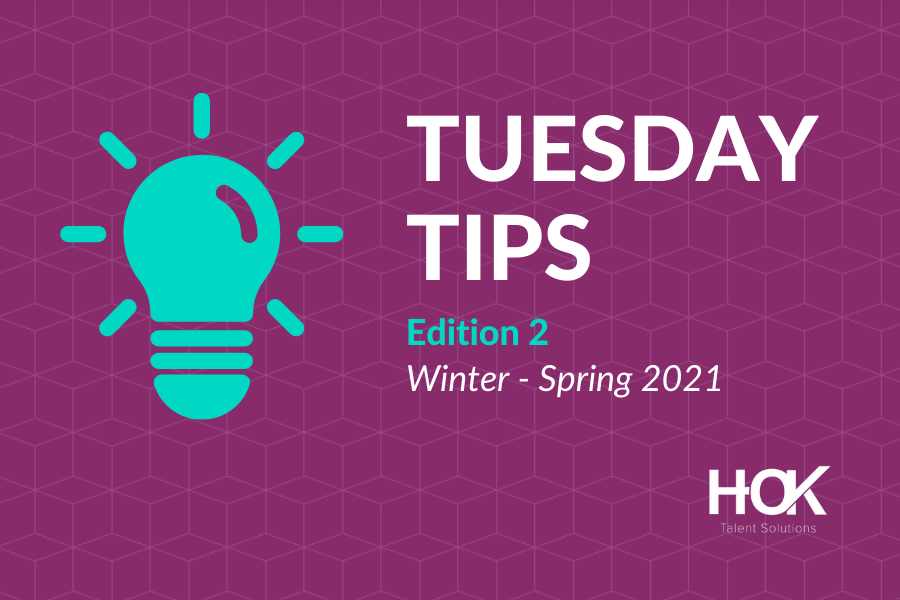 15 Sep

HOK Talent Solutions "Tuesday Tips" Edition 2 – Winter-Spring 2021

Every Tuesday on our HOK Talent Solutions LinkedIn page we post a 'Tuesday Tip' – here are our most popular tips through Winter into Spring 2021. Make sure you follow us on LinkedIn! 
Top tip for hiring managers & candidates
Taking a break
Most HSE job candidates have had the biggest 12 months of their career. It is not unusual that when offered a new role, they will want to take some time between roles.
So, employers be kind around this. Even though the role has been vacant for a long time and the work is piling up, there is something to be said for onboarding a refreshed candidate. They'll be grateful to you and you are already building a positive relationship.
And candidates, be firm that this is important to you. If it's not detrimental to your current organisation, you could seek to negotiate that part of your notice period is your owed annual leave. Many employers will be okay with this as it works out a little cheaper for them, particularly if you have a lot of leave banked. 
4 Top tips for hiring managers
1. The Lexus v the Porsche
What do you do when the right job candidate comes along, but after they tell you their current salary, you know you can't afford them? 
Do you: 
Interview them – thinking you will win them over?

Thank them for their interest and say goodbye?
Our advice is select option 2 – thank them for their interest and say goodbye.
In this candidate led market, talented HSE candidates know what they are worth. Progressing them and not being able to negotiate the salary (through no fault of theirs) will leave both parties frustrated.
Therefore, if you can only afford the Lexus, don't be tempted by the Porsche.
2. Planning your recruitment strategy
For companies to successfully recruit in a hotly contested HSE market, there's work that needs to go into the planning.
We've written an article that focuses on 6 tips for hiring managers.
Writing an appealing position description

Offering flexible work arrangements

Shortening your recruitment time-line

Re-considering mandatory requirements

Increasing the $$$$

Exploring attractive perks
3. The definition of a great hiring manager
Kind of a tip, but also a celebration of working with a great hiring manager. It went like this.
Phone call from us – 'I've just interviewed an amazing candidate. He's looking at something else but really likes the sound of your opportunity. He's the first candidate we've met for your role, but he's really good – how quickly can you meet him?"
Hiring Manager – "I can meet him on ZOOM in two hours."
4 hours after we introduced the candidate……
Hiring Manager – "He's amazing. I told him he's progressing. I've emailed him a ZOOM meeting request for 7.30am tomorrow to interview with the key stakeholders. I'm organising the medical."
24 hours after introducing the candidate, a third and final interview was scheduled. 
36 hours after introducing the candidate……
Hiring Manager – "He's the one. Can you start the references? His medical is later today."
Within 72 hours of introducing the candidate.
The contract was issued to the candidate and they accepted. The other organisation he was interviewing with didn't even get to offer stage. 
The take-out from this is that the hiring manager knew what she wanted – she didn't wait for other candidates to benchmark this person against – and she moved the process through quickly. 
In a hot job market, moving quickly is key to ensuring you secure the best talent available. 
4. Onboarding your newest arrival
Onboarding – never assume that your new senior hire needs less handholding and time with you than your entry level hire.  Influencing and driving change is easier when the players, the culture, the vision, the strategy and the plan is well understood.
5 Top tips for candidates
1. Research = Success
How are you researching the business that you are interviewing with?
Undoubtedly, one of the best ways to stand out in an interview is to be well informed about the company.
In fact, it is not unusual to be asked questions such as; 'What do you know about us?" or "How have you prepared for your interview?" or "Why are you interested in joining us?". 
If those questions aren't asked, showcase your research at the end of the interview by asking the interviewers questions that demonstrate your research.
Researching your prospective employer is not only helpful in assisting you to excel at your interview, it's also helpful to assist you to decide whether the company is the right 'fit'. 
Backing up the importance of research to assess cultural fit is a SEEK survey which revealed 51% of Australian's felt that that the company they worked for didn't align with their initial impressions. 
So, next time you are in a recruitment process, be as informed as you can be and read our  7 job search tips to land a fantastic role in health and safety.
And, we're always available to coach you for interview success – reach out to Helen or her team to learn more. 
2. So you want to work from home?
Working form home is currently the most requested benefit our candidates seek. Yet, not all HSE roles are viewed as appropriate for working predominantly from home (outside of lockdowns of course). 
If WFH is important to you in your next role, begin to target the types of roles in the types of industries that will offer you greater flexibility. Without stating the obvious, it's unlikely to be a site based generalist HSE role at a manufacturing site, but could well be a HSE generalist role in a corporate / lower risk setting – e.g. industries such as retail, higher education, or banking and finance.  And, pure HSEQ systems roles will potentially have more WFH potential than an occupational hygienist or an injury manager (across any industry sectors). 
And be up-front from the beginning to ensure your expectations can be met. As much as a company might like you, this may be one area for them that's non negotiable. Waiting to negotiate at the offer stage may leave you disappointed and the hiring company frustrated.   
As always, we are here to help with your job search and provide any advice about WFH.
3. Leave a lasting impression
No matter how 'hot' the HSE  jobs market continues to be, interview performance remains key.
Verbalising examples appears to let many of our HSE candidates down.  
Whether it's a traditional behavioural interview or a general conversation, examples of your achievements and how you work are so very important.  
Most organisations will want you to know how to:
Influence people to your point of view

Make critical decisions

Drive continuous improvement

Engage / manage your stakeholders

Deal with changing / challenging priorities

Impact cultural change 
Well prior to your interview, think through the examples you'll share and ensure they are relevant to the organisation in front of you.  
Remember to tell them what YOU did as opposed to what the team or the company did. It's about leaving a lasting impression – so they can see you in the job they've just discussed. 
Watch our webinar Cracking the job interview code: 6 Success Strategies to learn how to confidently navigate job interviews and land your next HSE job.
4. First impressions do count
We interviewed a candidate some weeks ago – on ZOOM in their car, on their phone and in their workplace carpark. They were distracted by cars coming in and out and the occasional wave / knock on the window to work colleagues. It distracted us too.
We deliberated about shortlisting the candidate. Great skills and (when they weren't distracted), good examples, but our client would also be conducting ZOOM interviews. So, we provided the candidate with some honest feedback.
Their response? 
"I only did it in the car because it was you'. Ouch. 
The tip today is that impressing a recruiter is as important as meeting the hiring company. 
Always ask the recruiter if there is the flexibility to meet outside of work hours or, if you have to meet in your car, then move your car to a less distracting area. 
Footnote: The candidate proceeded to have two successful interviews with our client – from their home office and on their laptop.
5. Be a 'stand out' job candidate
In a market that continues to offer many job opportunities for HSE candidates, we witness some candidates struggling to manage the approaches they might be receiving.  
So, here are our top tips for being a 'stand out' job candidate. 
Be responsive – if you receive a direct approach, respond. Even if it's to say 'thank you, but no thank you'. After all, you might want to be remembered next time.

Be decisive – ask yourself whether it is the right role, right salary, right location and right timing – if it's not, don't apply / enter into any conversations.
To find out other 4 top tips to build a great career, read our article How to Be a Standout HSE Job Candidate…for the right reasons.
We are always here to help. Get in touch with us if you need any further advice.